Included with every woodland Yurt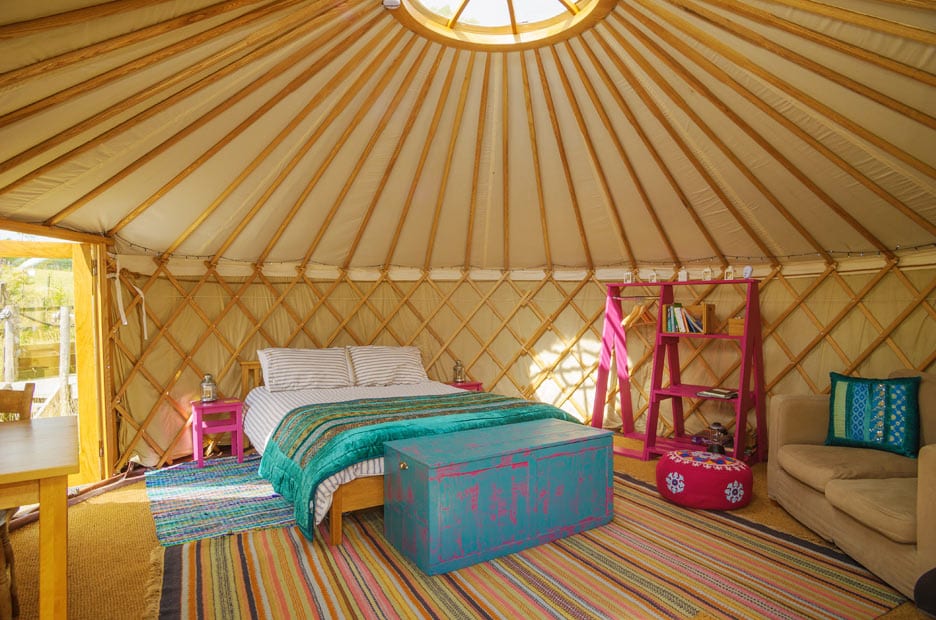 What you get when you buy a Woodland Yurt
Frame
Khana (wall trellis)
Collapsible trellis walls. The wall poles are of air dried ash. Our new wall poles are machined to a beautiful profile giving a much better looking, safer and stronger wall. Each pole is then steam-bent, seasoned for several months and then sanded and oiled with four coats of Danish oil. The tops of each wall pole is shaped to seat the roof poles. The wall comes in two or more interlocking sections.
sturdy Uni (Roof poles)
Mongolian style gers have straight roof poles. Each pole is made from very clean straight grained, well seasoned English ash. The top of the pole has a long square taper to fit perfectly into the tono. The bottom of the shaft is round in profile. Just like the Mongolian original but using the superior hardwood available in this country. Each pole is carefully sanded. The bottoms are shaped and fitted with loops to attach to the Khana, and finished with high quality oils.
Tono (Crown or roof wheel)
Made from kiln-dried English (or FSC European) oak or ash. Beautifully made heavy eight-spoked wheel. Hand finished square mortices. The tono is built in sections finger jointed together for the strongest possible wheel. All crowns are carefully sanded and finished in high quality oils
Nars (door Frame)
A very sturdy door frame, made from solid oak. The whole frame is sanded and oiled. The frame can be collapsible for ease of transport, or if you prefer it can be pegged and glued together for more permanent use.
Wooden Door
A practical and good looking softwood door is supplied as standard with most of our yurts.  Complete with sturdy T Hinges with locks and door handles.  For a small extra cost you can have a beautiful oak door with beautiful hand-made pewter finished T hinges and high quality lock and handles.
Lifting prog (gers over 13 feet without bagana)
A well made forked ash/oak pole to allow you to put up the yurt whilst keeping your feet on the ground.
Bagana (Upright posts) gers over seventeen feet only
A pair of upright poles with oak tops to lift the crown and stabilize the ger in high winds or under heavy snow. Traditionally always used in Mongolia. Our gers can be used with, or without bagana.
Cover (all yurts)
Roof cover
Our roof covers are made from 12oz. fire, water and rot proofed cotton/polyester canvas. Each cover is fitted to its own frame to give a perfect fit (with or without felt).  There is a generous overlap between the roof and wall cover to keep the yurt dry and draught free. There is a round hole over the crown which can be left open on fine days. 
Wall cover
Made from 12oz. canvas with a tough PVC skirt at the bottom which is big enough to tuck under the yurt frame or overhang the sides of decking. The wall attaches to the door frame using our unique, neat, easy to use weatherproof and good looking system which allows for the inevitable shrinkage of the canvas over time, On our smallest yurts (up to 14 feet) the wall is in one part. On larger yurts the wall is in two parts which zip together at the back. Every yurt wall has one or two adjustable vents.
Crown cover
Our canvas crown cover is fitted to the shape of the crown. It overlaps the roof cover and is in the shape of a large four-pointed star. Keeps the yurt dry and is easilly pulled back or removed on hot days. We do not recommend clear windows in this cover as they are prone to condensation and leakage, but we can fit one free-of-charge if required.
Zipped door
Supplied with smaller gers and all yurts not supplied with a wooden door
Tension band
A strong canvas band which wraps around the yurt frame, pushing each roof pole securely into place and protection the outer cover from chafing.
Groundsheet
The yurt is supplied complete with a very tough waterproof PVC coated woven polyester groundsheet. If you are using the yurt as a permanent home a heavy duty groundsheet which comes up the side of the yurt and offers even more protection is available (at cost).
Ropes and pegs
All ropes and pegs to hold the yurt together and secure it in place. We have been making yurts for a long time and have learned the best type of rope/cord/tape for each use. There are clear directions as to where each rope goes. Pegs are hand made cleft English ash. A wooden mallet is included.
Full instructions
Each yurt comes with full written instructions and a youTube video to guide you throught he process. Many customers have complimented us on the clarity of our instructions, but if you are in doubt about how to put up your yurt up you are very welcome to give me a call and I will talk you through the process
Make your yurt dream a reality